Queenie McKenzie circa 1920's – 1998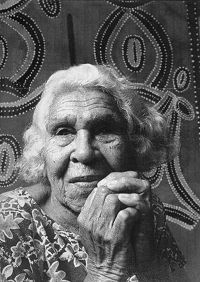 As an Aboriginal woman of the Gija language group, Queenie had been the cultural strength of her community, she was referred to as the 'law woman' for the Kimberley, a vast area of wilderness situated at the top of Western Australia. In her role as law woman Queenie would insure that the traditional cultural practices were carried out correctly and at the right times. She also insured that the younger generations learnt about their cultural heritage and she taught them about song, ceremony and story. She was known by people across the Kimberley as the 'Boss' of women's law.
The women of Warmun Community, decided in 2002 to make a book about Queenie, to keep her legacy alive.