Aboriginal and Torres Strait Islander people are warned that parts of this website may contain images or voices of deceased persons.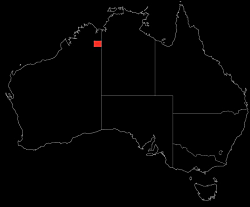 AUSTRALIA - the home of one of the most ancient and intriguing cultures in the world. This newly published book provides a rare opportunity to journey into the traditional lands of one of Australia's most respected indigenous woman, who was a revered cultural leader and acclaimed artist - Queenie McKenzie.
Join us on this journey into the remote Kimberley landscape, to learn about Queenie's life and her cultural legacy that continues to be Written in the Land Queenie knew so intimately from birth. A land imbued with the songs of generations of elders.
Queenie's homeland is within the vast area of wilderness called the East Kimberley situated at the top of the state of Western Australia, the exact area of her tradtional lands are now known as the TEXAS DOWNS Cattle Station. The approximate location of Texas Downs is depicted as the red square in the adjacent map. This pristine location is quickly becoming known as a must see environment by International adventures and tourists alike, although it is still one of the most hidden secrets of Australia. This land that Queenie and her people inhabited undisturbed for thousands of years, contains breathtaking wilderness. It is not uncommon that visitors are profoundly touched by its majestic energy. This is the environment that Queenie spent her childhood, learning from her elders how to interact with the land and its sacred sites, places that retain the power of those interactions.
"Every rock, every hill, every water,
I know that place, backwards and forwards, up and down, inside out.
It's my country and I got names for evey place". QUEENIE